Working at Starbucks has become a popular choice for many individuals looking for part-time employment. As one of the largest coffeehouse chains in the world, the company offers flexible hours and a vibrant work environment.
In this article, we will explore the shift hours at Starbucks and provide answers to some commonly asked questions regarding shift schedules. Whether you are a barista, a shift supervisor, or aspiring to join the team, understanding the shift hours is essential.
Typical Starbucks shift hours
Starbucks has 4 to 8 – hour shifts. However, it also depends on the staff demand and opening and closing time of each store.
The length of the shift may depend on the needs of the store, the availability of the partners, and the number of hours you can work each week. It is important to note that as a part-time employee, you are required to work at least 12 hours a week at Starbucks, as per company policy.
However, the actual work hours may vary based on your availability and the needs of the store. The typical shift hours are as follows
Morning Shift Hours
| | | |
| --- | --- | --- |
| Store Shift | Start Time | End Time |
| Morning | 4:30 a.m. or 7:30 a.m. | 12:00 p.m. or 3:00 p.m |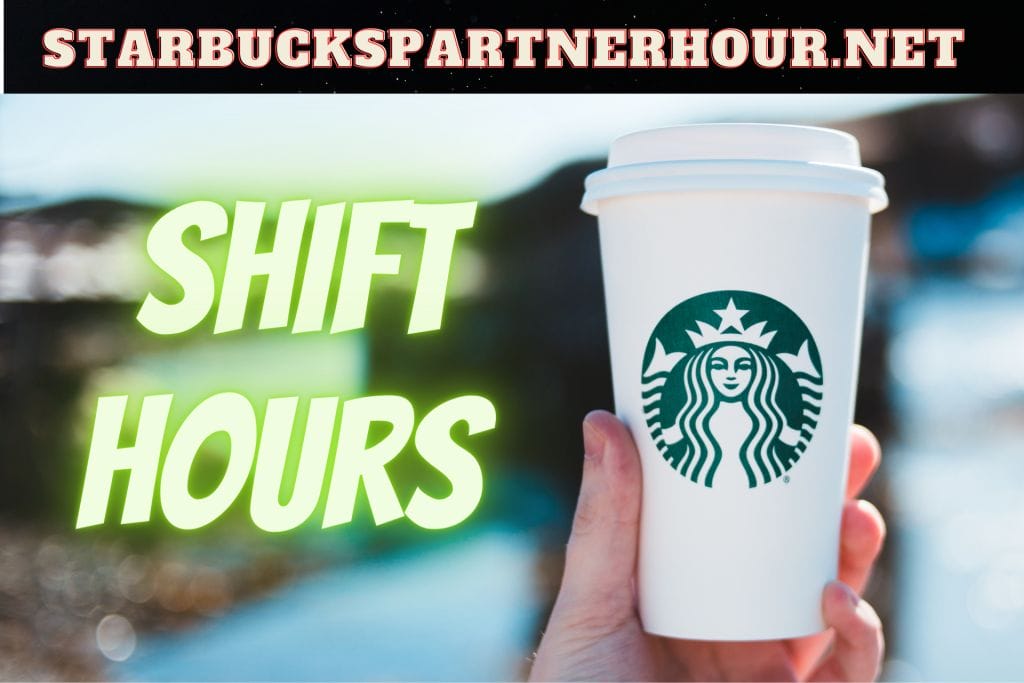 Midday Sift Hours
| | | |
| --- | --- | --- |
| Store Shift | Start Time | End Time |
| Midday | 9:00 a.m. | 3:00 p.m. or 8:00 p.m. |
Evening shift Hours
| | | |
| --- | --- | --- |
| Store Shift | Start Time | End Time |
| Evening | 4:00 p.m. or 5:30 p.m | 11:30 p.m. |
Role of Assistant Managers and Store Managers in Shift Hours in 2023
Assigning shift hours is a key responsibility of Assistant Managers and Store Managers. Their role involves overseeing the scheduling process, considering business needs and employee preferences, and following company policies. Here are the typical tasks they perform:
1. Overseeing the scheduling process: Assistant Managers and Store Managers ensure that all shifts are covered, the right number of hours are scheduled, and there is a suitable mix of experienced and new employees on each shift.
2. Considering the needs of the business: They take into account factors such as sales volume, customer traffic, and employee availability when creating the schedule to meet business demands.
3. Balancing employee needs: Assistant Managers and Store Managers strive to accommodate employee preferences and avoid overworking them. They aim to create a schedule that allows employees to work the hours they desire while maintaining a balanced workload.
4. Following company policies: They adhere to company policies and procedures when making scheduling decisions, ensuring fairness and consistency in the assignment of shift hours.
The specific tasks involved may vary depending on the size and structure of the business. Here are some common tasks:
Reviewing employee availability: Assistant Managers and Store Managers check employee availability and update the scheduling system accordingly.
Creating schedules: They use scheduling systems to develop schedules that align with business and employee needs.
Communicating with employees: Assistant Managers and Store Managers share schedules with employees and address any questions or concerns they may have.
Making schedule adjustments: They may need to modify schedules due to changes in business requirements, employee availability, or unforeseen circumstances.
By effectively assigning shift hours, Assistant Managers and Store Managers contribute to the smooth operation of the business and promote employee satisfaction and productivity.
Are Starbucks shift hours flexible for Starbucks Partners?
Starbucks prides itself on offering flexible working hours to its partners. Whether you are a student, a parent, or have other commitments, Starbucks understands the importance of accommodating your schedule.
As a Starbucks partner, you have the opportunity to collaborate with your store manager to determine your availability and preferred work hours. This flexibility is one of the reasons why many individuals choose to work there. Starbucks offers a wide range of Starbucks benefits to their employees, including flexible working hours, which allows for greater work-life balance and personal scheduling flexibility.
Can workers choose their Starbucks shift hours?
Starbucks workers have the opportunity to choose their shift hours to a certain extent. However, they may not have complete control over the schedule. Starbucks values open communication between partners and store managers.
The company encourages partners to provide their preferred availability, and they  aim to schedule shifts that accommodate the needs of all employees. At Starbucks, scheduling is done at least three weeks in advance, allowing partners to plan accordingly.
What is the Shortest shifts at Starbucks?
The shortest shift at Starbucks typically lasts around 4 hours. This duration may vary depending on the store's requirements and the number of staff available during certain time slots. Short shifts are usually assigned during less busy periods, such as midday or late evening, when customer traffic is lower.
These shorter shifts provide the opportunity for employees to fulfill their weekly hour requirements while allowing for greater flexibility in their schedules.
Are there Specific Time slots for the Shortest Shifts?
Although there are no specific time slots exclusively designated for the shortest shifts, many part-time employees often opt for midday shifts. These shifts, typically lasting around 4 hours, offer flexibility for individuals to manage their work alongside other commitments.
They are particularly suitable for students or those with primary responsibilities in the mornings or evenings, allowing them to strike a balance between work and other obligations.
Do Baristas have to work the Shortest Shifts?
As a barista, your shift options may include both longer and shorter shifts. They play a crucial role in the daily operations , and their availability for various shift lengths allows for optimal store staffing.
While it is not mandatory for them to work the shortest shifts, their flexibility in choosing different shift lengths helps balance the needs of the store and the individual partner.
What are the start and end times of a typical Starbucks Shift?
The start and end times of a typical Starbucks shift can vary depending on the location and the store's daily operations. However, most shifts begin early in the morning to ensure that the store is ready to serve customers when it opens.
Some stores may have shifts starting as early as 5 a.m., while others may start at 6 a.m. or later. The end times of the shifts are generally aligned with the store's closing hours, which can range from 8 p.m. to midnight or even later for stores in high-traffic areas.
What are the busiest hours during a typical Starbucks Shift?
The busiest hours shift are often in the morning and early afternoon. These are the times when customers are looking for their morning coffee or a midday pick-me-up. While each store's busy periods may vary, it is common to experience a rush of customers during the morning commute hours and lunchtime rush.
You can expect to be busy during these peak hours, ensuring fast and efficient service to meet the customer demand.
What are the responsibilities of a Barista during a Shift at Starbucks?
During a shift at Starbucks, a barista has various responsibilities. These include, taking customer orders, preparing beverages, operating the espresso machines, maintaining cleanliness and organization of the store, restocking supplies, and providing exceptional customer service.
Baristas are the face of Starbucks and play a vital role in delivering the high-quality experience that customers expect.
How can I become a Shift Supervisor at Starbucks?
There are certain qualifications and experiences that the company looks for. Starbucks values individuals with strong leadership skills, excellent communication abilities, and a passion for customer service. At least one year of previous retail or customer service experience is often required.
Additionally, completing the' internal training programs and demonstrating a commitment to the company's values and culture are important factors to be considered for this position.
How many hours a week does a Shift Supervisor work?
He typically works around 25 hours per week. This position allows individuals to take on more responsibilities and leadership roles within the store while maintaining a work-life balance.
However, the company aims to ensure that he has consistent and predictable schedules to effectively fulfill his role.
What are the responsibilities of a Shift Supervisor at Starbucks?
He has a diverse range of responsibilities. These include, but are not limited to, managing the store during their shift, supervising and supporting baristas, ensuring operational excellence, providing training and development opportunities for partners, maintaining inventory levels, and delivering exceptional customer service. He plays a crucial role in leading the store and ensuring a positive and efficient work environment.
Are the Shift Hours at Starbucks the same for all locations?
Are there any differences in hours between different stores?
Starbucks strives to maintain consistency across its stores, there may be some differences in work hours between different locations. Factors such as store size, customer traffic, and regional preferences can influence the shift schedules at each store.
Additionally, store managers have the flexibility to adjust schedules based on the availability and needs of their specific store. However, Starbucks aims to provide clear communication and transparency regarding work hours to ensure partners are well-informed and can plan their schedules accordingly.
Do all stores have the same shift schedules?
Starbucks follows certain guidelines and requirements for shift scheduling, exact shift schedules may differ between stores. Each store has its own unique set of needs, and store managers are responsible for creating schedules that effectively meet those needs.
However, Starbucks maintains a consistent framework for scheduling, including advanced notice of schedules and considerations for partner availability and preferences.
Are the hours at Starbucks consistent throughout the week?
The hours at Starbucks may not be consistent throughout the week. As a coffeehouse chain, Starbucks experiences different levels of customer traffic during different days of the week.
In general, weekdays tend to be busier during morning and midday hours, while weekends may see higher customer traffic throughout the day. Starbucks aims to align shift schedules with these customer trends to ensure the optimal staffing levels at all times.
FAQs
Conclusion
Starbucks offers a range of shift hours to accommodate different employee schedules and preferences. The midday shift hours are particularly popular among employees, as they allow for a more flexible work schedule.
Starbucks CEO, Laxman Narasimhan, emphasized the importance of providing a work-life balance for employees and implemented a policy of working no more than 40 hours per week. This means that employees can work up to 12 hours per shift, but no more than 40 hours in total.
Since Starbucks values the well-being of its employees, it ensures that working hours are flexible and takes into consideration their needs and preferences. For example, employees have the option to start their morning shift at different times depending on their availability, and closing shifts often begin up to 30 minutes after the previous shift ends.
With two midday shifts available, employees have the flexibility to choose the hours they want to work per week. The minimum hours an employee can work at Starbucks is 12 hours per week, with shifts typically lasting between 4 to 8 hours.